'Use-things-in-your-fridge' stuffed pesto chicken- Recipe Inside
---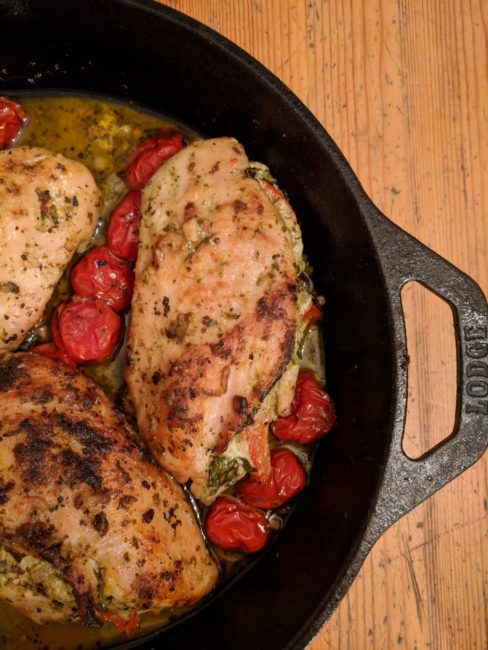 The weekend before last was one of those crazy ones where everything is a blur and you have no idea when Saturday comes and Sunday ends. I had so much on my plate that my brain was scrambling to keep up.
Nihal and I agreed to dog sit Charlie (our previous foster dog), but we couldn't bring him home because he and Rosie wouldn't get along. Between the two of us, we decided to split the houses, so he would stay with Charlie (like he'd let me have it otherwise) and I was to stay at home with Rosie. This would've been easy if we didn't have a house showing over the weekend. That meant super cleaning the house and getting out for couple of hours with Rosie. Usually, we'd just drive around New Hampshire and Vermont with her in the back and go looking for random trails, but this weekend, we had friends from out of town and we all wanted to go bowling in Claremont, which was about forty five minutes away. Between that, driving Rosie around for a couple of hours, and driving forty minutes in the opposite direction to feed Charlie, we were beat! And I didn't even get a chance to enter the kitchen.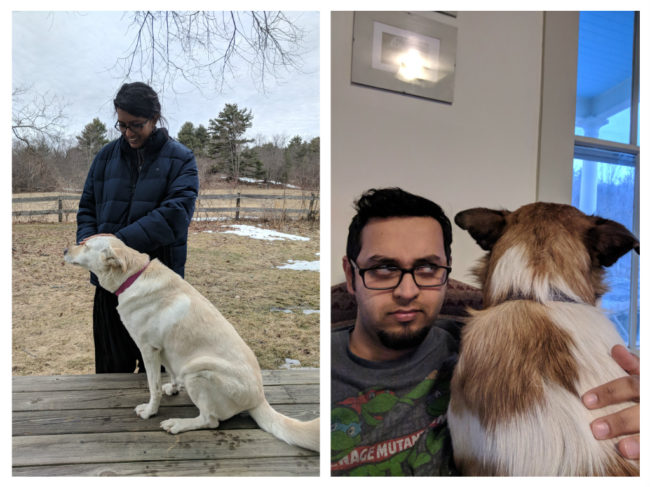 So, I made Monday my day. I planned it such that I was free of all my chores and work by five, and I could spend the entire evening in the kitchen. I knew I wanted to test the chocolate eclair recipe, that was dessert, but I had no idea what to do for dinner. After the weekend we'd had, I wanted to make an elaborate meal and no matter how much I scrolled through recipes, nothing caught my eye! I didn't know what I wanted, just that it had to have something to do with pesto.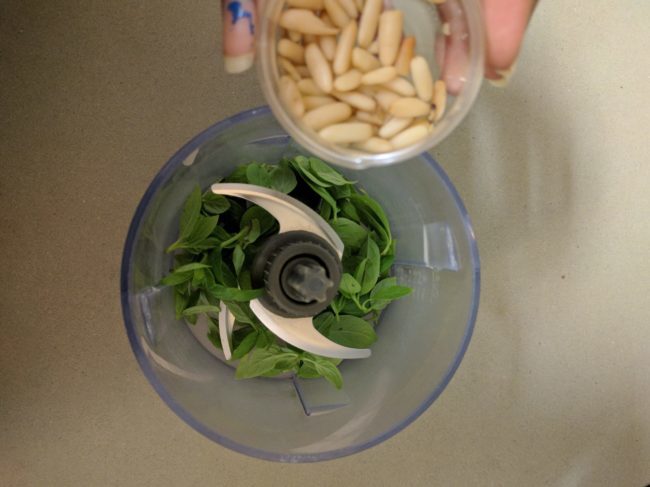 I opened the fridge and stood starting at its contents. I don't know what it is about a fridge that transfixes me, I think sometimes, I imagine food magically appearing in there, saving me from having to decide. After a few minutes of freezing in front of the fridge, I decided to go with the chicken. I also grabbed the cream cheese spread, a slab of cheese that Justine had given to me (of whose name I have no clue), pickles, banana peppers, baby spinach and red peppers. This was going to be one of those 'throw together things in your fridge' kind of recipe. I'm always a bit apprehensive about not following recipes when it comes to chicken and meat, but something came over me and I said screw it, 'I'm gonna do this on my own!'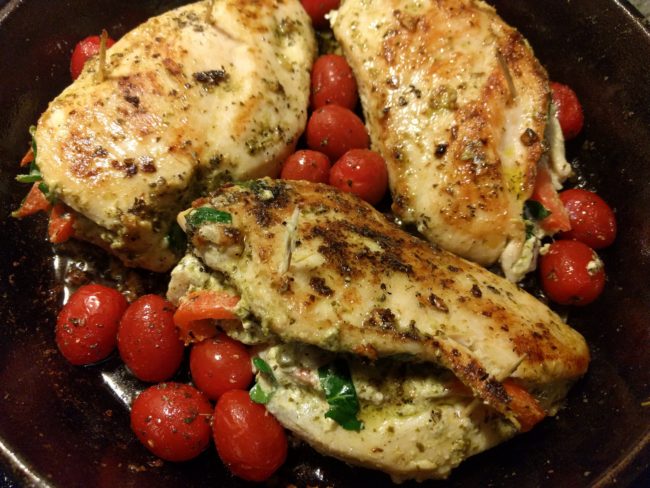 I started with salting the chicken. I read in The Food Lab by Kenji Lopez-Alt (a.k.a, my Bible) that letting a chicken breast brine in salt will help it retain water, preventing it from drying out while cooking. I let that rest for an hour and got started on roasting a bell pepper over open flame and julienne-ing it. I'm not a big fan of the vegetable, but give me fire roasted anything and I'll inhale it. In my head, I pictured slivers of roasted peppers hanging out of the stuffed chicken, so I went with it. For the stuffing, I mixed the cream cheese, cheese, pesto, minced pickles, banana peppers, and baby spinach. After slitting the chicken breasts, I rubbed pesto all over, especially the crevices, before stuffing them with the cream cheese mix and roasted peppers, and used a couple of toothpicks to hold the breast together.
To cook the chicken, I used a cast iron pan. I love cooking in these!! It not only gives a nice brown crisp on top, it adds flavour to the dish. And you can cook it on stove top and simply just stick it in the oven, which is what you do. Ten minutes on the stove and twenty five minutes inside the oven at 350F. I also chucked some cherry tomatoes in oil, salt, pepper, and oregano and added them to the pan. For the last ten minutes in the oven, I covered it with foil to ensure that the chicken does not dry out. Take it out of the oven and leave it covered for another five to ten minutes.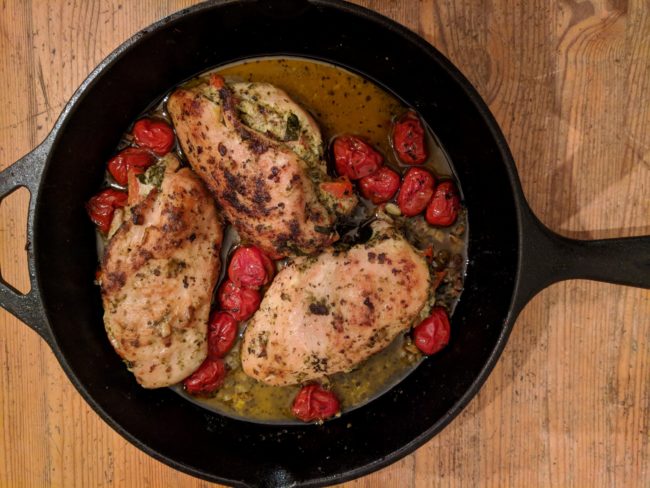 I paired the chicken with some baked asparagus and spicy mashed potatoes, and it was one of the best chicken dishes I've made! Oh, the chicken was soft, juicy, tangy, with little bursts of spice from the banana peppers and the tomatoes were so succulent. It took a lot of effort to not get carried away and finish the chicken even though I was extremely full! You can find the complete recipe here.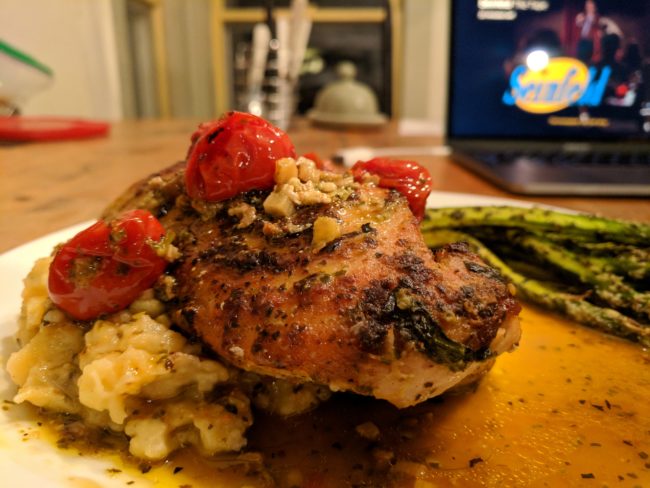 I invite you all to raid your fridge too, it's a lot of fun!