A little taste of the Mediterranean- Shawarma rolls! Recipe inside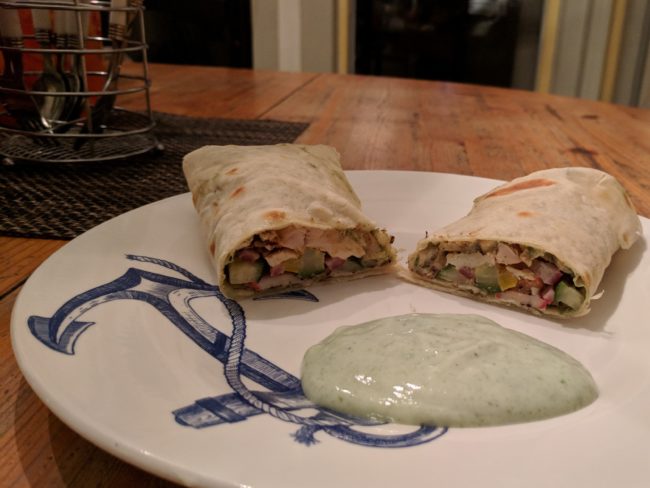 Behind the bookstore in Bangalore, where I used to work part-time during law school there was a restaurant called called Empire, it's actually a chain well known for being open late in the night (so you can imagine the Sat night crowds,) but more importantly for its shawarma.

Right outside the restaurant, they had a station where pieces of tenderized, yogurt and spice marinated chicken would be roasting on a big skewer, dripping juices on to a large plate. Every two minutes or so, one of the cooks would come up to it with a large knife and shave the crispy, blackened bits. That's what makes shawarma so amazing! That chicken!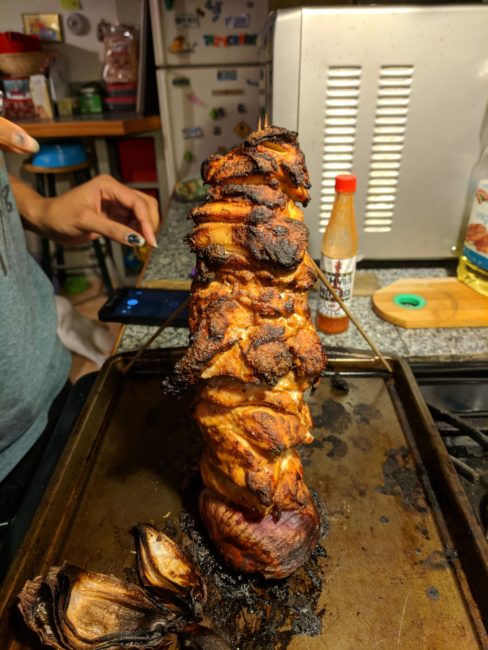 When living in Bangalore, I had a roommate called Harshini and the four years with her as a roommate was the absolute best! We have about five years between us, but it really didn't take more than a day for us to get close. Together, we explored so much of Bangalore, its bars, restaurants, malls, and our favourite, home shopping stores. Man, we loved it there! We'd go crazy talking about what all we'd buy if we moved into a house. Every day was an adventure and she was always up for everything!  
Every now and then, and I would get cravings for Shawarma randomly in the night and I'd start talking to her about it until we both can't take it anymore. So, we'd sneak out of the hostel, hop on her Dio and ride across town to pick some up! After talking to her recently, I was telling everyone at home the story, and we all started craving shawarma. It has been so long since we've all had one! Juicy roasted chicken paired with long slices of carrots and cucumber, wrapped in a light, flaky rumali roti served with a side of mint yogurt chutney. It was inevitable that it became my next project.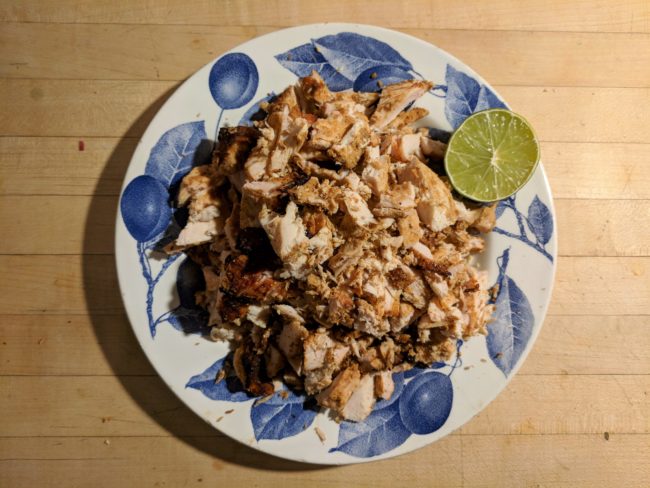 There are a lot of components that make a shawarma. Let me go in the order so that it's easy for all of us. First, the veggies. I like pickling mine. When I went to London, there was this lady in one of the markets and she made the best falafel I've ever tasted in my life! Her stall was so colourful with all the ingredients laid out that I just had to try and it was the one of the best decision I've made in my life. Oh, the pickled vegetables in there just made it sing.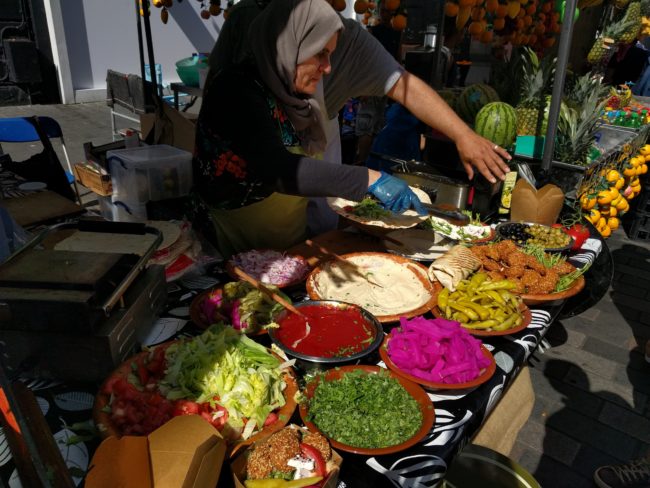 So, I'm borrowing the idea. Slice any veggies you'd like, I normally go with cucumber, carrots, onions, capsicum, radish, and beetroots. Cut them like how you'd do potatoes for French fries, long fingers. The onions alone slice horizontally into thin rings. To pickle them, take one part vinegar, one part water, a teaspoon each of salt and sugar and mix it all up. Keep it aside. The longer it sits in that concoction, the better. You can prepare this days ahead. Also, you can add a slit chili or crushed garlic for some extra flavour.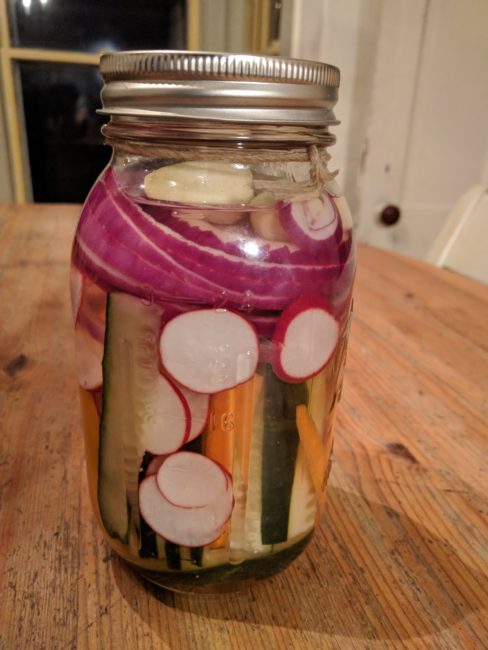 Next, comes the chicken. I used boneless breasts for this. Place your hand on the top of the breast and slide a sharp knife through the side, cutting the chicken in half. Cut these into smaller cubes. In a bowl, mix yogurt, ginger-garlic paste, salt, coriander, cumin, chili, cinnamon, turmeric, and pepper powder. Add the chicken and let it marinate for half an hour.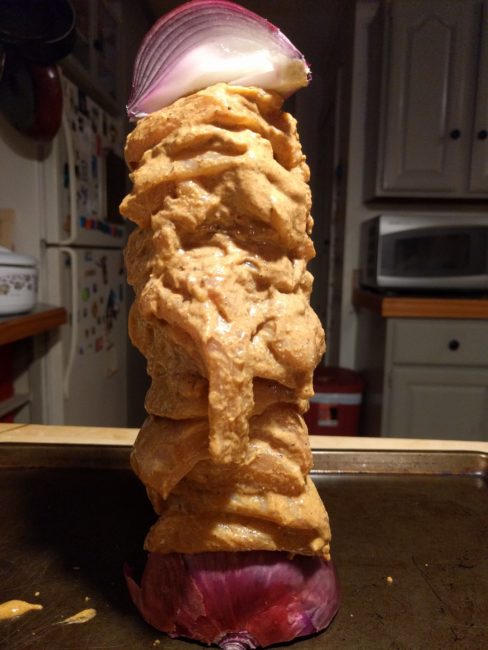 Preheat the oven to about 400F and remove all but the bottom most rack. Using half an onion as base, push a skewer through and place the chicken pieces one by one, on top of each other. Use another onion piece to bookend it. Ok, so what I found out was that this will not stand in place once the onion starts cooking, as it will become soft and the tower of chicken will keep falling down. So place the onion not in the centre, but towards the edge so that you can use couple more skewers to balance it.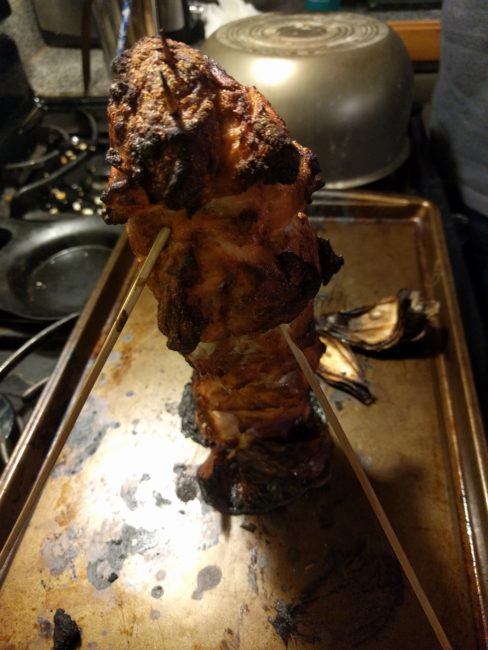 Cook this for about one hour until the edges have blackened a bit. Once the chicken is done, hold the tower carefully and using a sharp knife, shave the sides, starting from top and slowly moving down.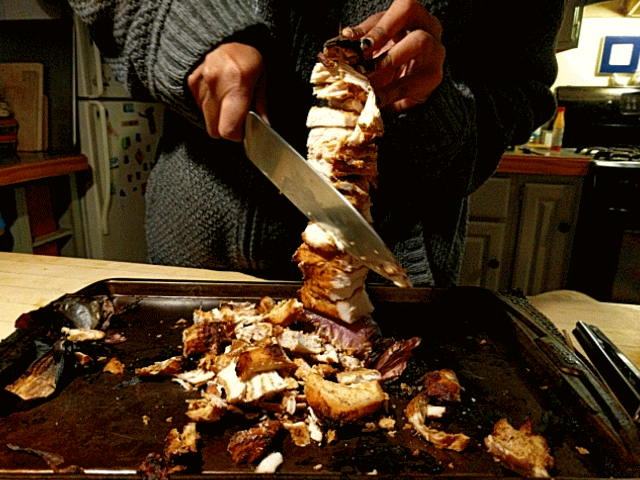 For the base of the shawarma, you can use a tortilla base, but if you are up for making rumali rotis at home, here is the recipe. I spread a layer of mayo and one of spicy mint chutney on the roti before I started the construction. Place everything in a small rectangle, chicken first, then pickled vegetables, a drizzle of tahini sauce, and a sprinkle of sumac. To make the shawarma, fold in the two sides which look smaller, then close one flap and roll.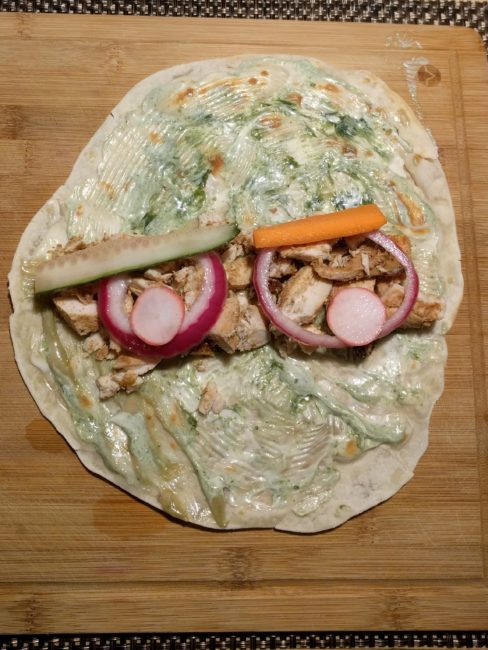 So, up for a ride? You can find the complete recipe here.