A spicy shrimp curry to give you company during the snow storm- Recipe Inside
---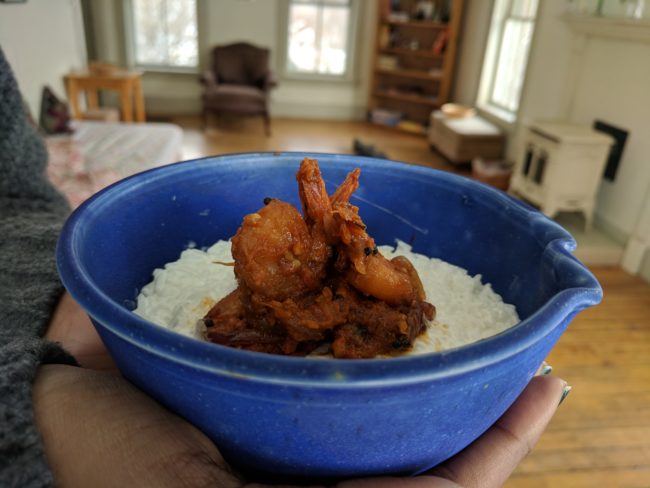 Having never seen snow until two years ago, I absolutely love snow storms and boy, have we been having our share up here in the North East! Not more than four days have passed when we had sixteen inches of snow and already we had a rager going on. It was snowing constantly since six in the morning Tuesday and died down only by Wednesday evening. The snow alternated between wet and flaky, making it cling to the barren branches and electric line, essentially covering everything in white. I now know why they call it Winter Wonderland, all that sheer white simply takes your breath away! Sometimes I can't believe this is where I live.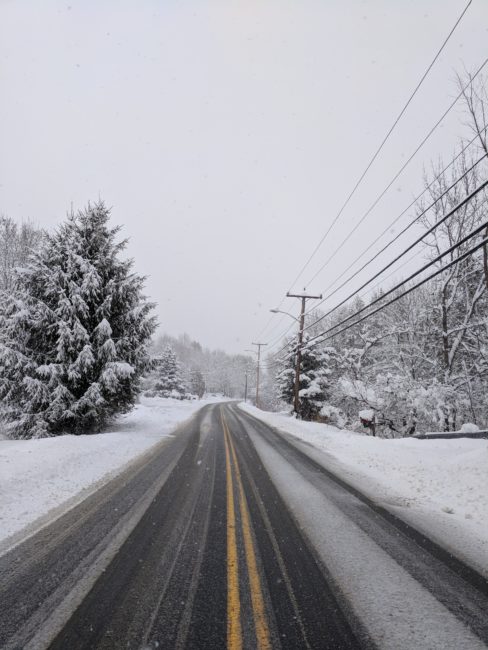 When I know there is a snow day coming up, I try to finish up all my work before so that I can take the day off to enjoy (the perks of being self-employed.) First, snuggling up with my favourite gal and reveling in the feeling of staying in bed till whenever I want.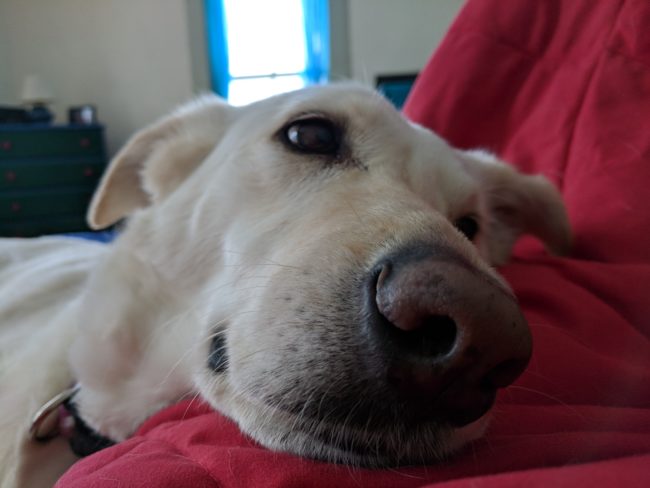 Meet Rosie, the over-protective, follow-your-every-footstep, marshmallowy, goofball. A beautiful rescue from Texas, who didn't take long to win our hearts. She is with us while she waits for her forever home.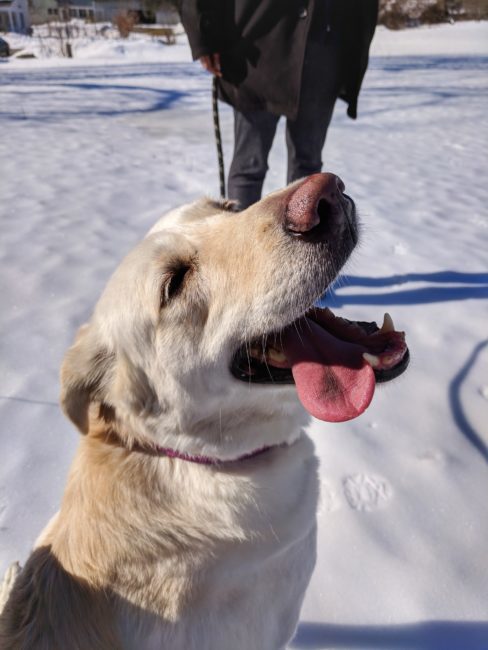 Next, is tea outside. This habit started in December, when the house was filled with friends from all over for a Christmas reunion. We'd all go outside to assess the snow, take photos, shovel/play around in the snow, build snowman (or a superbly failed one) and it only made sense to take our morning drinks with us. I love drinking tea as little flakes of snow fall around and everything is pretty and white. The tea of my choice- simple black with sugar and lime. It has just the enough zing to wake you up!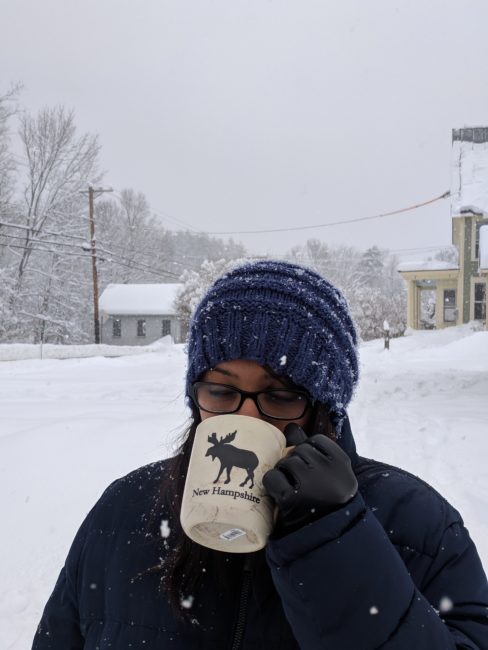 This snow storm, Ni and I decided to drive out to Vermont (you know.. just to see how much snow they were getting.) Ever since he got Winter tyres, he loves driving in the snow and I.. I never say no to exploring! We stumbled upon (read: went looking for) railway tracks covered in snow and walked up to the bridge crossing a small part of the frozen Connecticut river. At some parts, I was knee deep in snow and absolutely loving it!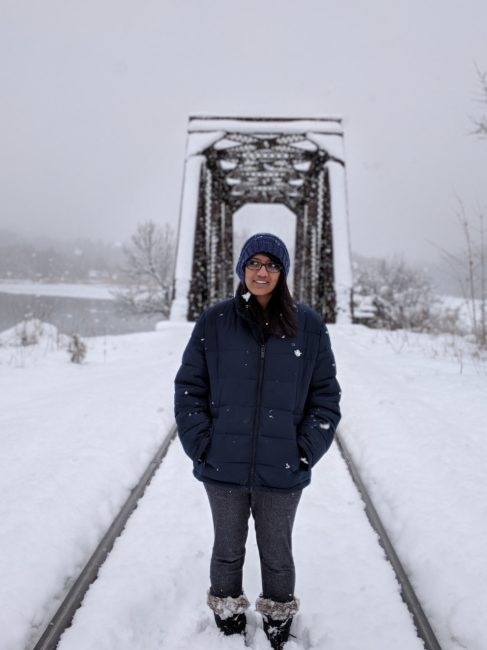 Days like these when I come back home, I love whipping up a spicy meal and the first thing that came to mind was this hot shrimp curry. I was dead from wadding in all that snow and didn't want to put much effort into cooking. I came across this recipe when I was on YouTube and came across this 108 year old, cheerful grandma from a small village in Andhra Pradesh, India who cooks out in the open with wood fire. She is an absolute delight to watch!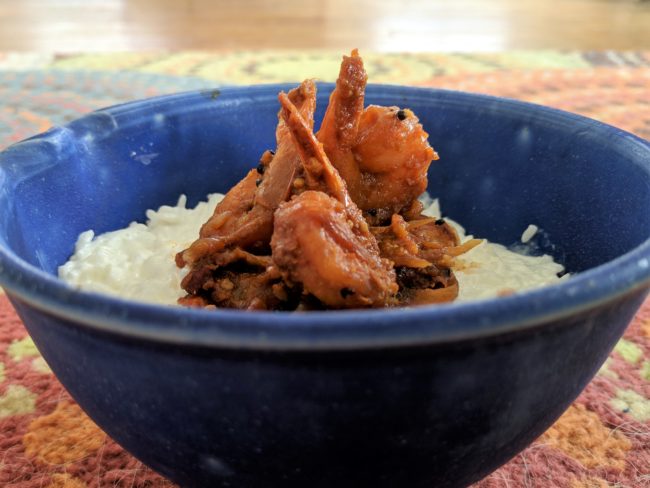 I use frozen cocktail shrimp for this one, the medium sized one as they are peeled and de-veined. I tried the unpeeled one once and regretted that decision de-veining my second shrimp. From then on, it has been only cocktail shrimp for me.
So the first step is to cook them ever so slightly in turmeric powder, say for about four to five minutes.  Set it aside and in the same pan, add a bit more oil and cook the rest. I always like making the entire dish is cooked on one pan so that I don't lose any flavour. Some sliced onions, tomatoes, and the basic spices; chili, coriander, and cumin.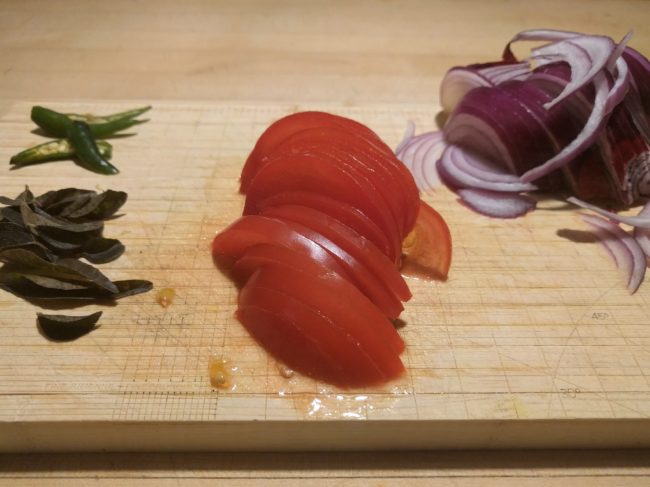 Add the shrimp and just enough water to cover the shrimp. Close and cook until almost all the water has evaporated.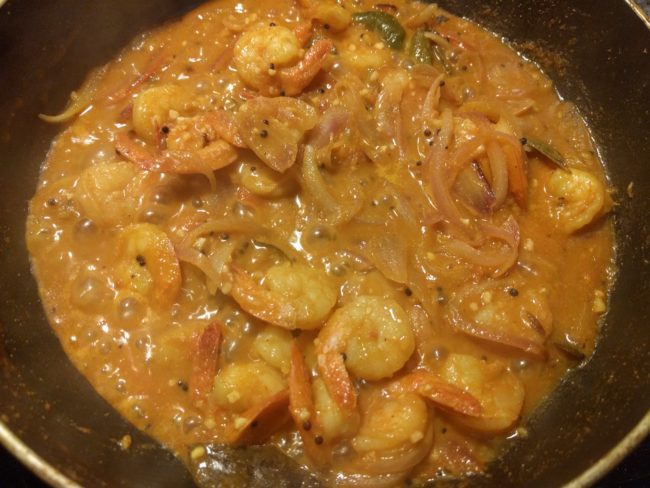 If I'm looking for comfort food, I like eating this with a bowl of hot white rice and some plain yogurt, or curd rice as we call it home. It is also great with chapatis/naans, pickled onions, and a wedge of lime. What would you try it with? 
 You can find the complete recipe here.