Beef fry, a taste of Kerala, India- Recipe Inside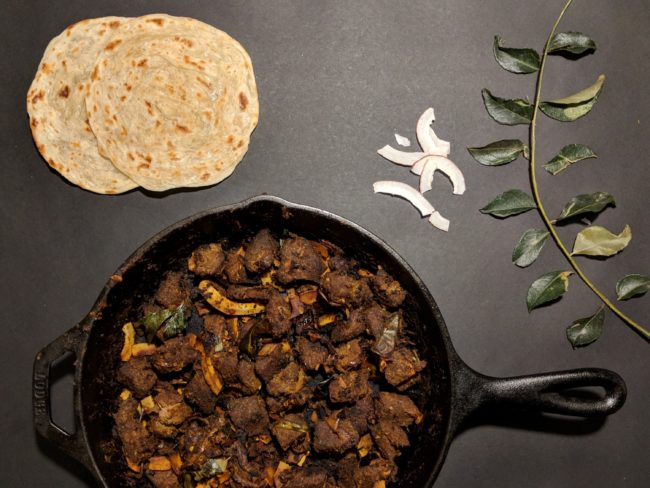 I love Kerala cuisine. Perhaps, it has to do with the fact that I was born there, or spent every Summer of my childhood with my grandparents in a small, beautiful village called Thondikulam in Kerala. Everything you might've heard about Kerala's plush beauty is true. Apart from my grandparents' place, I travelled to Kerala a lot, for work, visiting family, or simply travelling to see its oil lamp filled temples, dense tiger reserves, wildlife rich mountains, breathtaking beaches, or aromatic spice estates and I'm telling you, I could spend a lifetime exploring Kerala and I wouldn't have scratched the surface.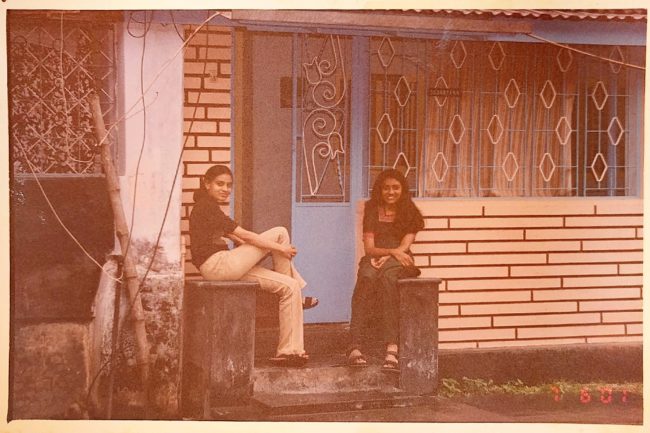 A couple of years ago, after visiting a school on the job in Ernakulam, Kerala, I decided to travel down to Thattekad, a small low-land forest on the banks of a branch of Periyar river. The forest, known for its varied birdlife, is declared as a sanctuary and named after Dr. Salim Ali, one of India's renowned ornithologists. I saw a toucan there for the first time in my life! So casually sitting on a tree right outside the kitchen where we were all sitting for breakfast.  It was incredible! And so humbling. I spent two days in a little thatched hut (with a rather creepily large spider that scared the crap out of me,) and saw such a rich variety of birds, tiny and large.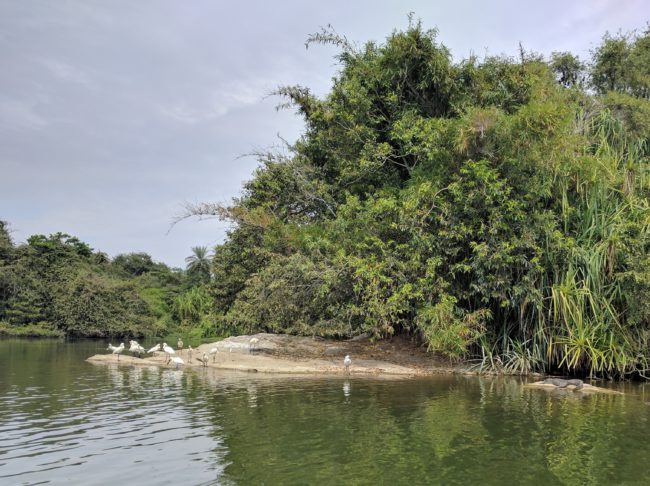 In the peak summer, for an hour, I sat in a camouflaged tent just to watch sun birds drink at the pool of water, sweating my ass off. It was so much fun! But, at the end of the day, it is the food I ate there that I remember best. Okay, there is a possibility that I'm obsessed, but the owner there cooked one of the best beef dishes I've eaten so far, and he served it for breakfast, lunch, and dinner. Little cubes of beef roasted over freshly ground spices, curry leaves, and slivers of dried coconut.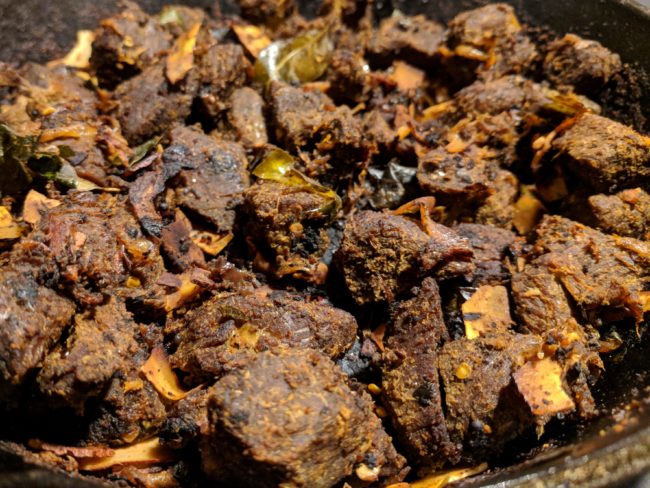 It's called beef Ularthiyathu (Oolar-thi-yea-dhu) and you can find it everywhere in Kerala, roadside carts to households, and as an appetizer or main course. Like I said, I ate it for breakfast, lunch, and dinner. The meat is cooked twice, once in seasoned water and next on a pan, until it toughens. Essentially, slow cooking of the beef. It begins with the marination, which takes only ten minutes. Yay! I love quick marination recipes. Once that is done, it has to be cooked in water. You can use a pressure cooker if you'd like, fill it with water just enough to cover the beef pieces, season it with a sprinkle of salt and cook for two whistles. If not, use a pot and twice the level of water as mentioned before, cover and cook until the beef becomes tender, about 10-15 minutes.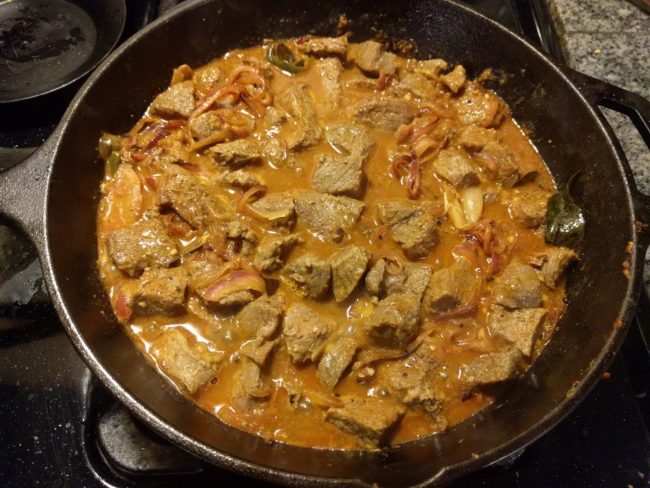 The beef pieces and the water it is cooked in is added to a pan with sauteed onions and few spice to add the punch, such as chili, coriander, turmeric, and garam masala. Personally, for this step I like cooking it in a cast iron pan. I feel like it just adds flavour to the dish! Cook on low flame until all the water has evaporated and add some sauteed coconut bits and curry leaves. Leave it on heat until it becomes dark brown, almost black.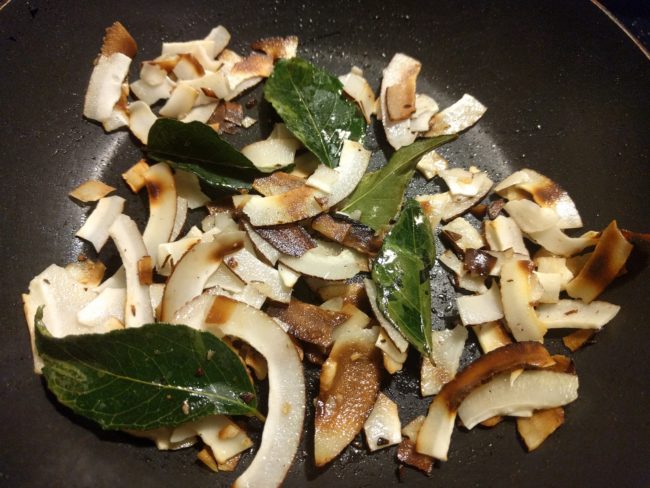 Beef Ularthiyathu is best with kerala parotta or rice, with a side of plain yogurt. You can find the complete recipe here.