Lemon Honey Cupcakes to brighten up your weekend- Recipe Inside.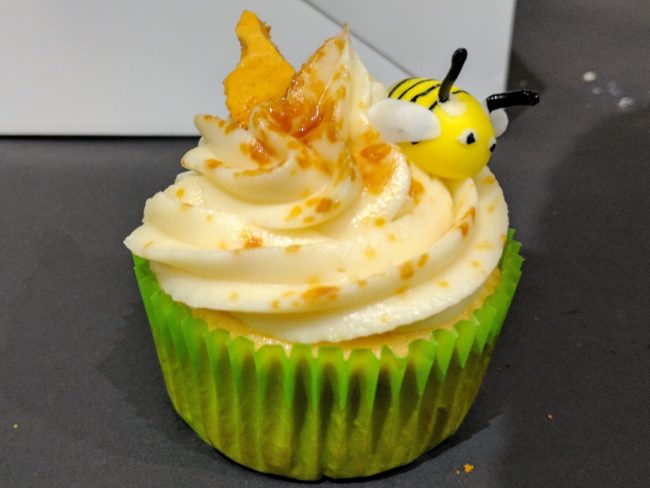 Y'all know the story of my salted caramel cupcake, where in my first year at graduate school I entered a cupcake competition and made cupcakes for the first time in my life. They turned out so soft and fluffy that I didn't care I didn't win. I was just happy I could make cupcakes! But, in the second year, I wanted to push myself and see if I could actually do it, if I could win. 
This time, I was ready and planning weeks ahead. I absolutely love make plans! As a kid, my mom would always chastise me for spending more time making my study plan than actually studying. I get that gene from my dad, and he is the ultimate master. I watched him work during my sister's wedding and it was amazing! Everything planned to the last detail, with extra contingency plans for each.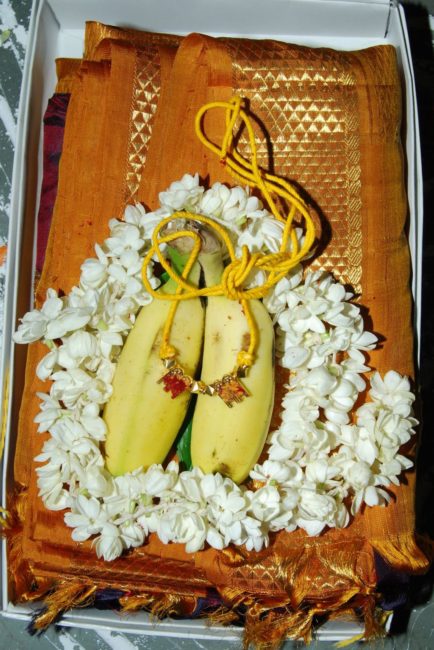 That's what I tried to do for my second cupcake war. Since the previous year even though the cupcake tasted amazing, it lacked pizzaz, this year, I decided to really bring it. After much research, I settled on lemon honey cupcakes. For the crunch factor, I decided to make honeycombs and for the pizzaz part, a tiny fondant bee (most of the judges brought their kids and this was a quick way to get their attention.)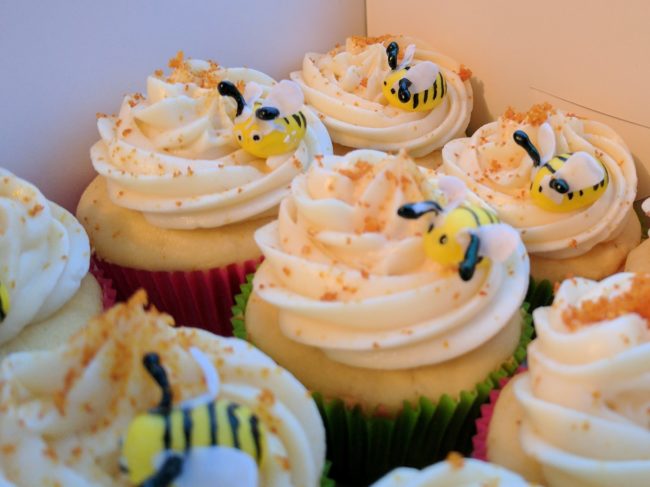 Let's start with honeycombs. There is an episode of cooking with Nigella Lawson where she make a box of honeycombs to take to a dinner, just her presentation made it so appealing and ever since, I've wanted to try making them. I reality, I can't look at a honeycomb as I have the worst case of trypophobia and looking at the shape gives me the heebie-jeebies. The ones I made at home, however, sent a different kind of shiver down my spine. The honeycombs were golden, airy, crunchy, and crumbled into a golden dust under the touch. It took me forever to get it there, though. I'd almost given up on making honeycombs, convincing myself that the fondant bees were enough, but I kept getting this nagging feeling that if I just tried it once more, I would be able to get it. After about seven tries, five to six different recipes, I found one that worked for me, one with cream of tartar. I quickly whipped up a batch of honeycombs and danced up and down in joy when it shattered into shards, the tiny powder glittering, indeed, like flecks of gold.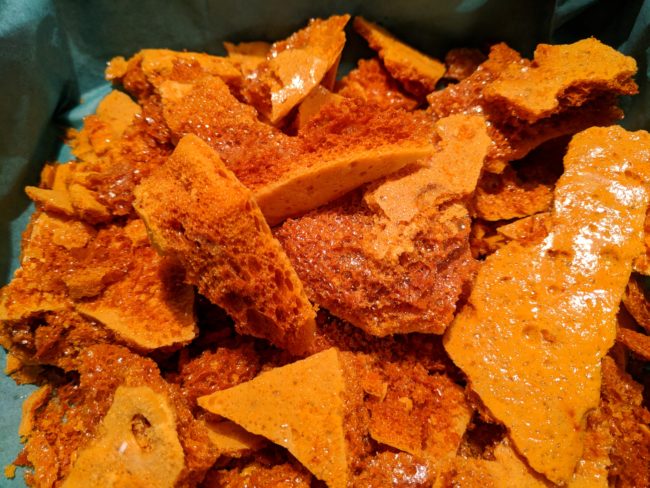 I started with the fondant bees on the eve of the competition. This was my first time working with fondant and I was quite nervous. I decided to make a sample one so that I could asses what we were dealing with and also how much time it would take for each component. For the body of the bee, I coloured the fondant yellow and cradled it in my palm to make an oval shape. I made two thin cylinders that got shaped into its antennae and two tear drop that got flattened into the wings, cut out two small pieces for the eyes and painted the stripes.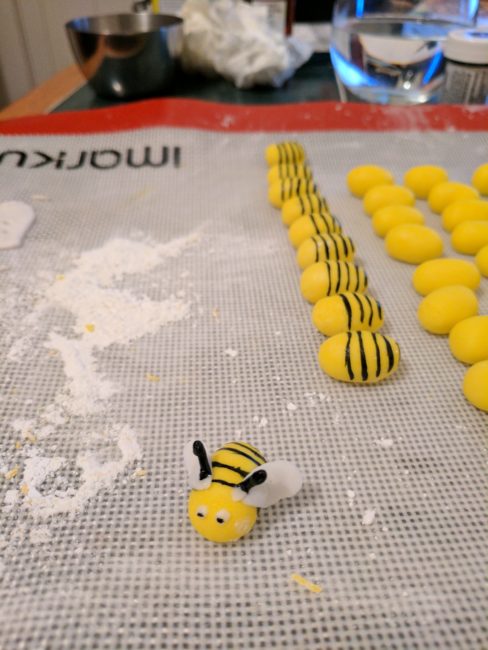 For the competition I wanted to make forty cupcakes, which meant I had to make at least fifty bees, making sure I had extra in case someone asked or if there was some accident. Actually I wanted to make eighty, thinking if people only wanted half a cupcake then the other half would need another bee, but with the time I'd allotted for this task, I couldn't do it. Each bit took way more time than estimated and I ended up sitting all night, bending over the kitchen table trying to complete the fondant bees.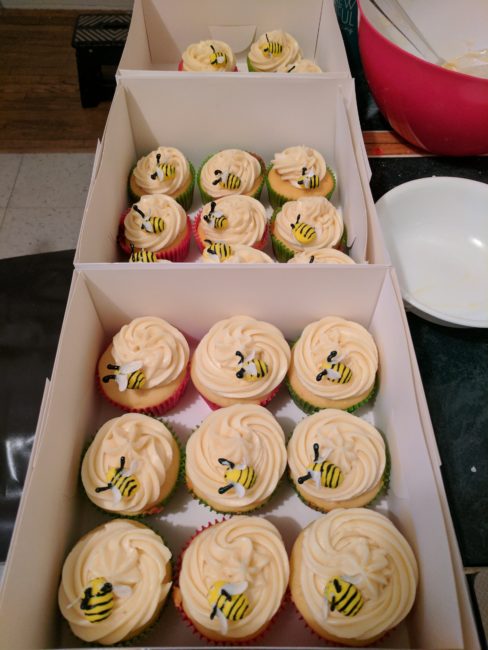 I finished at 7.30 am and promptly plopped on the bed to take a quick nap before starting with the cupcakes, the main star of the show. The cupcake in itself is a fairly simple recipe. The trick is in the first step of creaming the butter, honey, and sugar together. It has to become light and fluffy. And as always use ingredients at room temperature. Only if the butter is soft can the granules of sugar cling in there creating air pockets. This is very important because it will make the batter lighter, thereby making the cupcake nice and fluffy.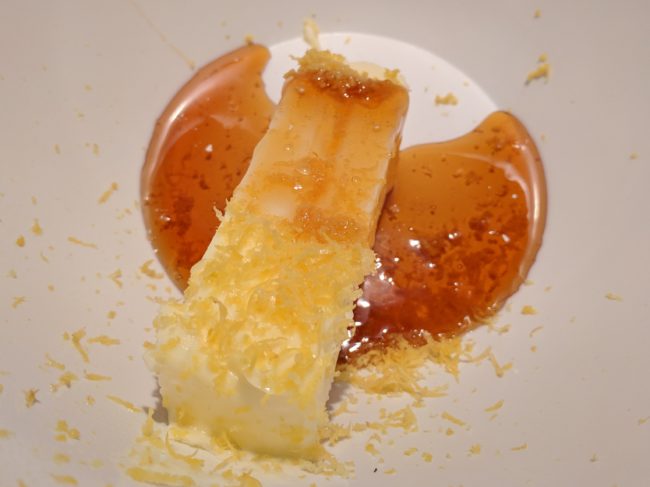 If you want accuracy of the size of cupcakes, always use a regular sized ice cream scooper. It is the perfect size (3/4th of a cupcake liner) and it is easy to pour. Bake for eighteen to twenty minutes and allow them to cool in the tin while you work on the icing.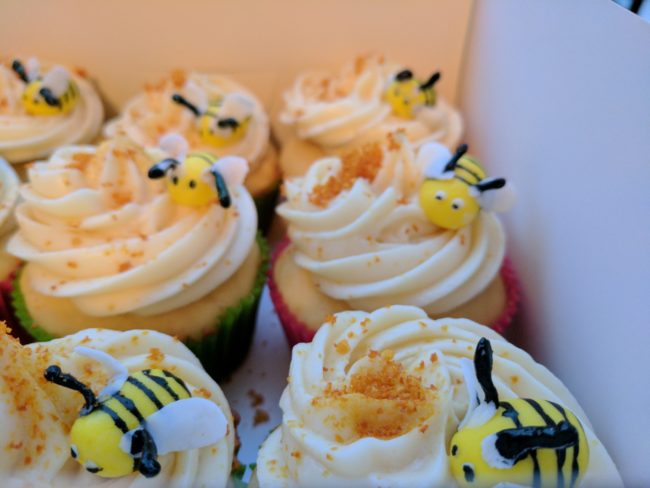 I made a simple buttercream frosting (can you still call it buttercream if you don't end up using cream?) Beat the butter, honey, and lemon zest until it is nice and soft. Add lemon juice and a pinch of sale before adding half a cup confectioners sugar. Mix well to check the consistency after adding another half cup. Keep repeating until the frosting is thick enough to hold its shape. Add a few drops of yellow food colouring if you'd like or if not, just put the frosting into a piping bag and frost those bad babies.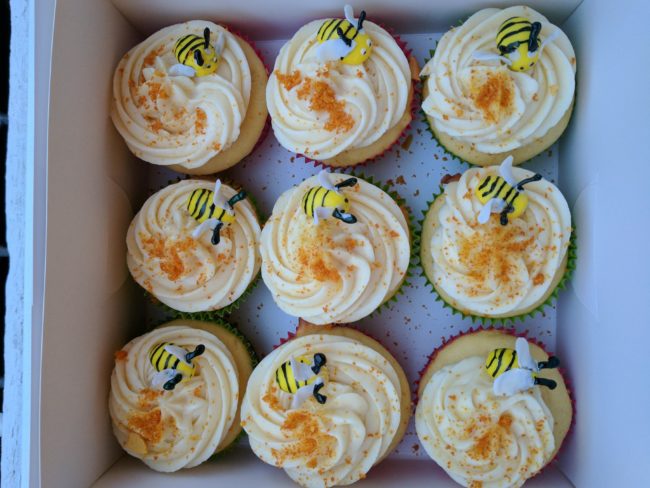 I finished all the prep with enough time to take a shower and plan out the presentation. That was another thing I'd ignored the previous time. I didn't even take a bed sheet to cover my table. So lame! This time around, I decided to use chalkboard chart to cover the table so that I could encourage people to leave their feedback. Needless to say, it was a hit and the journey there had been such an adventure!! Not only I achieved what I set out to do, I now know how to make beautiful golden honeycombs in a matter of minutes.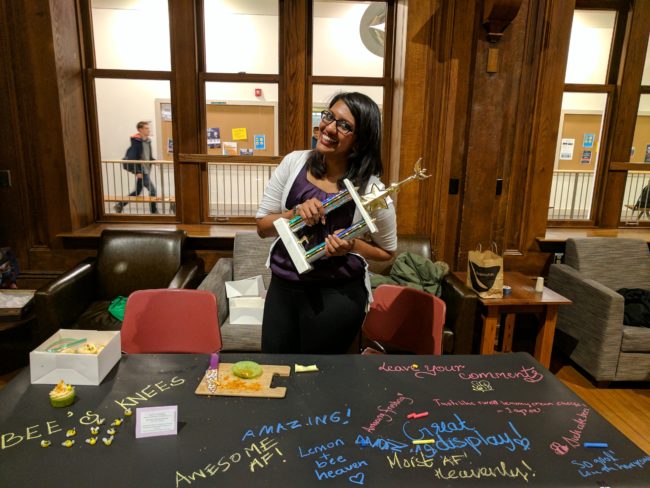 You can find the complete recipe for the lemon honey cupcakes here.