Palak paneer, authentic Indian dhaba style- recipe inside
---
This one's a crowd pleaser, people! If you ever want to boast about cooking Indian dishes, this is the recipe for you. Cubes of cottage cheese soaked in a vibrant, spinach gravy, smoked to perfection, just like the way it is done in dhabas back home.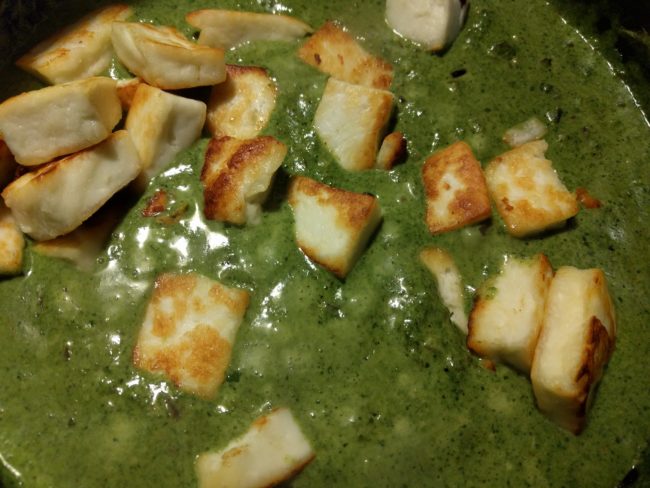 When I was in 6th or 7th grade, my mom, sis, and I visited my aunt in Lucknow for a whole month. One night, we were all sitting in the living room talking about trips that are worth taking and by the time we retired for the night, we had a plan to drive to Nepal the next day. It is one of the craziest things I've ever done! In a car with no air conditioning, in peak Indian Summer, where the temperatures are an average of 42C/107F, seven of us, including a driver, drove six hundred kilometers to cross the border into one of the most beautiful countries I've ever seen. For me, half the thrill was because it was the first time I was going to a foreign country, the other half was that we were driving into another country without passports!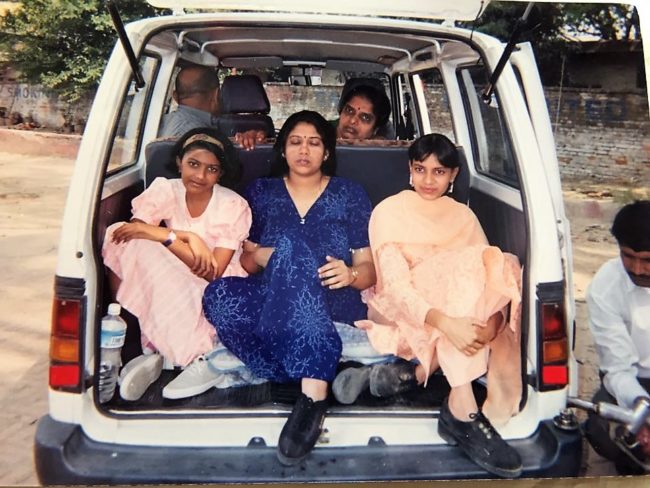 On the way, we stopped at Ayodhya, the birth place of Lord Rama. According to Hindu mythology, Rama was the beloved prince of Ayodhya, until he was exiled by his father under the whispering of one of his wives. During his exile, he meets his wife (wins his wife is more accurate, actually) and somewhere in the middle of 'happily ever after', she gets kidnapped by the ten-headed demon to Sri Lanka. Rama, with the help of his brother and the animal friends he makes on the way, goes down South and builds a bridge (of stones and rocks) between Indian and Lanka to cross the Indian Ocean and rescue his wife. His victorious return back to Ayodhya is celebrated as Diwali, the festival of lights. Even today, if you look at the satellite map of India and Sri Lanka, you can see a faint line connecting the countries.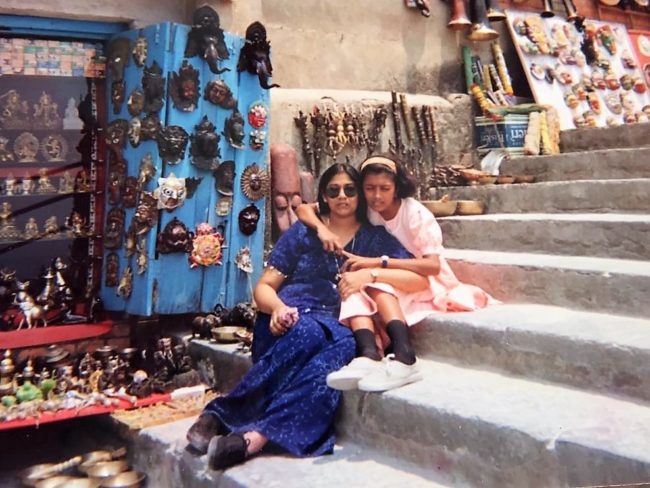 Enroute from Ayodhya to the border city of Gorakhpur, we stopped at a small dhaba for dinner. It was barely six wooden benches under a thatched room and was more frequented by truck drivers, but the food I had there is by far the best North Indian food I've ever had in my life. I remember my plate very clearly; a piece of naan, some palak paneer, dal makhni, thick curd served in a matka (earthen cup), and a raw green chili. It was hot, spicy, and so goddamn flavourful! The dishes were cooked over coal which added a whole another dimension. Man, I still get shivers down my spine when I think about that dinner.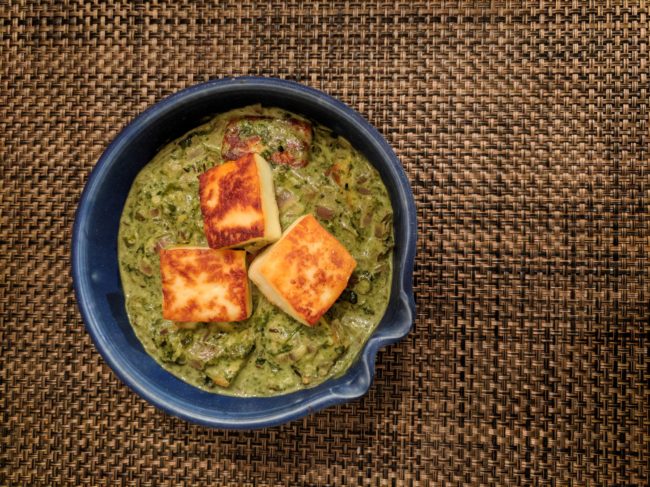 This recipe is one of my best attempts at recreating a dish from my past and I know I say this often, but this really is a damn easy one. The base of the gravy is palak or spinach. This is blanched and blended into a pulp and added to a pan with onions cooking in masalas and a ginger-garlic paste. Remember, when you are blanching spinach, it will lose colour quickly. Add a pinch of sugar to the boiling water and blanch only for 3-4 minutes. Drain quickly and let it cool in an ice bath. Blend into a paste, once cooled.

Now, the paneer is usually fried lightly to get a crispy edge, but you can skip this step if you like your paneer soft. I recommend using the same pot for preparing paneer and cooking the dish. You don't want to lose any flavour while transferring pots.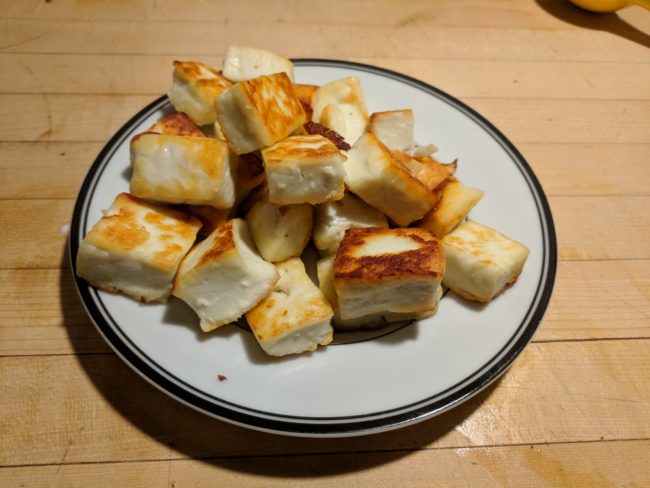 In the same pan in which you cooked the paneer, add a bit more oil and crackle some cumin seeds. Add a bay leaf for fragrance, let the oil get infused. Bring in the finely chopped onions and saute until they are soft and translucent. Add ginger-garlic paste and chopped chilies and cook until the raw aroma goes away. Add the spices and then the spinach puree, cook for a couple of minutes before adding the fresh cream and garam masala.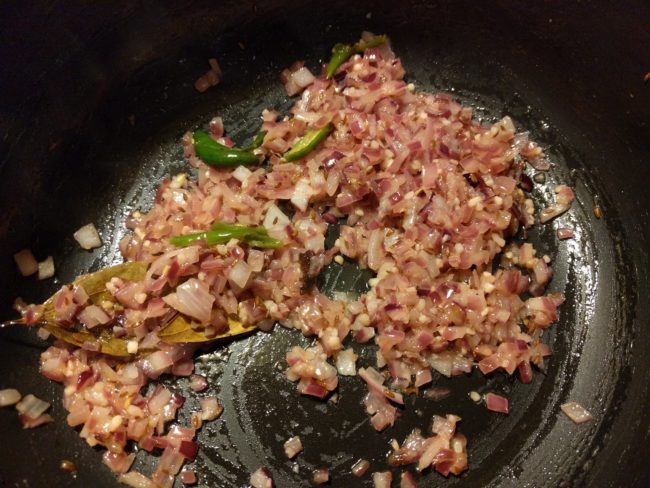 The final step in this recipe is smoking the dish. I found this method in a recipe by Dassana Amit. It's a very straightforward process where you heat up a piece of coal, until it is red hot. Place this in a small cup and lower it into the gravy. Pour a teaspoon of oil on the hot coal, it should start smoking immediately. Close the lid and trap the smoke. I highly recommend this step! Actually, make sure to taste the dish right before and after this step and notice the difference. It is a whole new world.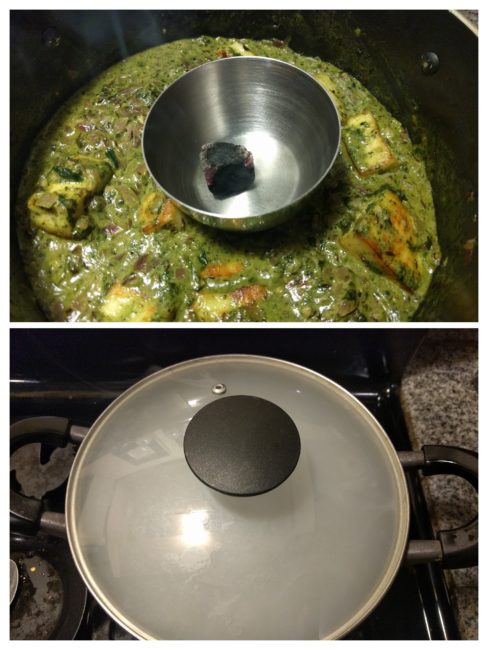 Smoke the dish for ten minutes and serve hot with chapatis, naan, jeera rice, pulao, or even just plain white rice.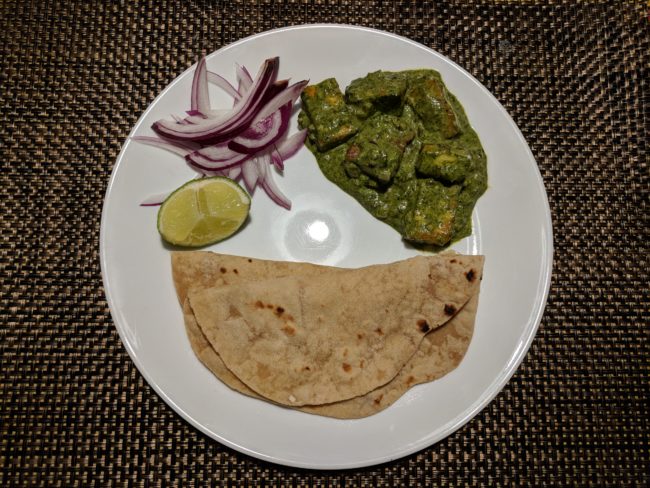 You can find the complete recipe here.