Make your own pasta! Try this mushroom stuffed tortellini-it's more easy than it looks!!!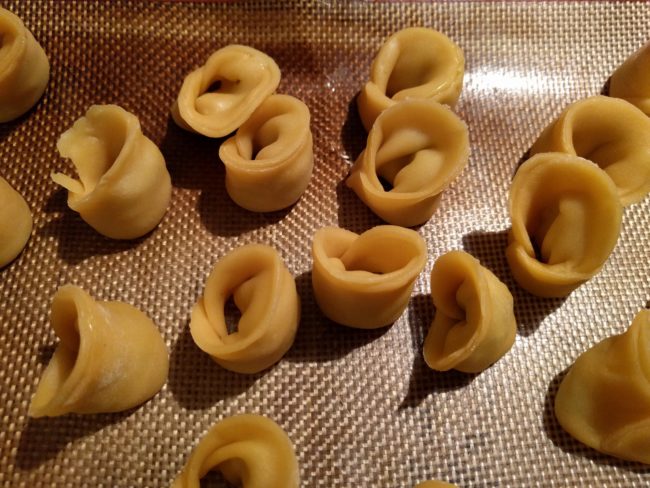 Recently, I got into a phase of listening to old Hindi songs and started missing my mother. One of my cherished memories is of her in the kitchen of our old house, singing along to some Kishore Kumar song and swaying as she made snacks for the evening. So when the mood for cooking hit, I put on some Binaca Geet Mala (a show about the greatest Hindi hits in each year all the way from 1950s) and brought out the flour to start the first step to making pasta. My mom loooooves pasta and like me, she favors the white sauce more than the red. Last year when I had gone home for Winter, I had offered to cook dinner and on the menu, by popular request, was pasta. However, I wish I had known how to make these tortellinis last year itself.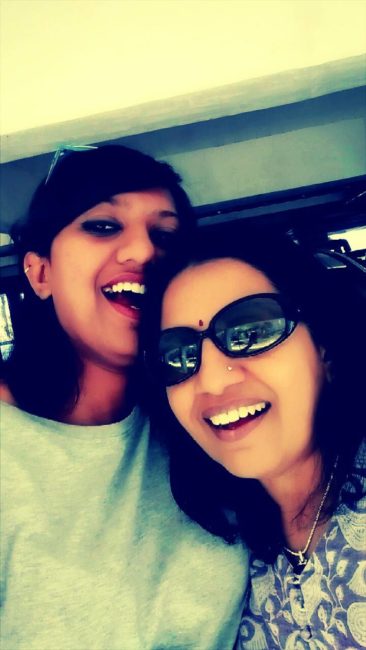 I've always only made the sauces from scratch, never the pasta itself, but after a Masterchef series marathon, I was convinced that it couldn't possibly be more difficult than I'd imagined in my head. And it isn't. I decided to go with a simple mushroom stuffing, but there are so many things you can try. Like spinach and artichoke, chorizo, Italian sausage, roasted red peppers or even simple cheese. I like my stuffing with a little heat inside so that it balances out the white sauce.  
For the pasta dough, you need only three ingredients. Flour, salt, and eggs. You could do this on a clean work surface or in a bowl or even in your food processor. For the first two, combine the all-purpose flour and salt. Make a dent in the middle of the pile and pour the eggs. With two fingers, slowly start mixing the dough to the eggs. Once the dough comes together, on a flat surface, knead for five to ten minutes, until the dough is smooth and does not crack when folded. A good way to check if the dough is ready, is by using a sharp knife to cut through the dough. If there seems to a lot of air bubbles, then you need to knead it some more. Wrap it up with Saran wrap or put it in a bowl and cover it with a cloth for about half an hour.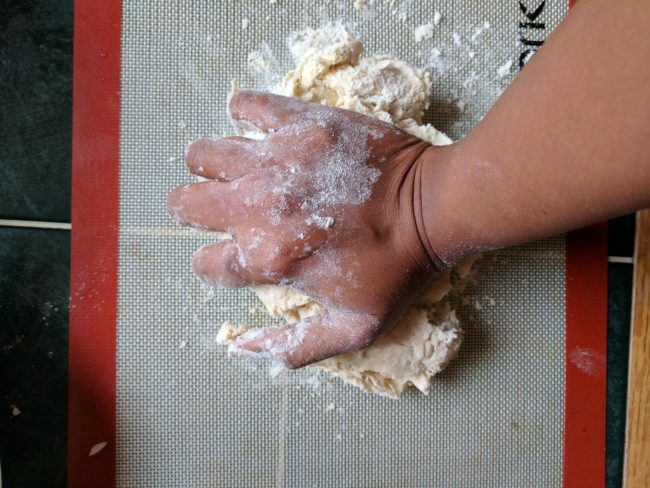 While the pasta is resting, you can work on the filling. Like I said, I went with a mushroom stuffing and for that little kick of heat, I chopped up some pickled jalapenos. I cooked the mushrooms on high heat until all the liquid evaporated before seasoning it with some salt and dried herbs. The objective is to have no liquid in your filling, else it will ruin your tortellinis. Cooking the mushrooms on high heat prevents them from oozing later on. I use cheese mainly just to bind the filling because of my choice of sauce. If you are doing a tomato sauce, a nice creamy or cheesy filling would go very well with the spicy sauce. So grate some Parmesan, check the taste and take it off heat. Allow it to cool down while you go back to the pasta dough.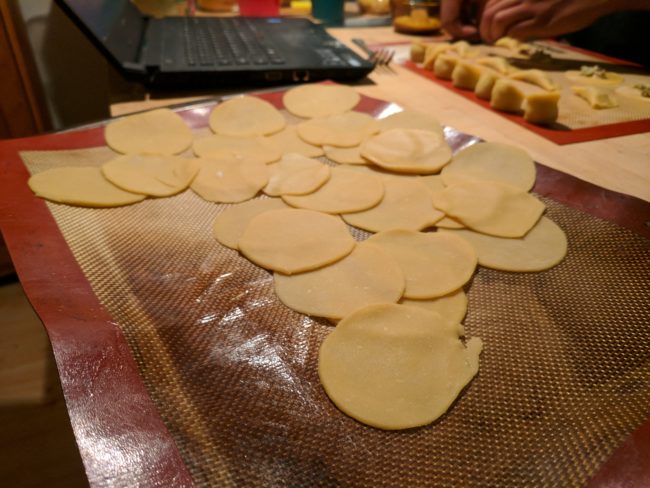 I don't have a pasta machine so I used a regular rolling pin. Work with a surface dusted with flour and dust the dough as well. Work from the centre and push outward. Pick the dough up and turn it a little and repeat the action. This way, you'll know the second the dough gets sticky and you can dust it with a bit more flour. I picked up rolling dough when I was a kid by helping my mom roll chapatis. I thought I'd almost lost the knack when I started making chapatis again earlier this year, but after a couple, it was smooth sailing. Now, even Vamshi and Ni are experts (one weekend we did meal prep and ended up rolling forty chapatis.)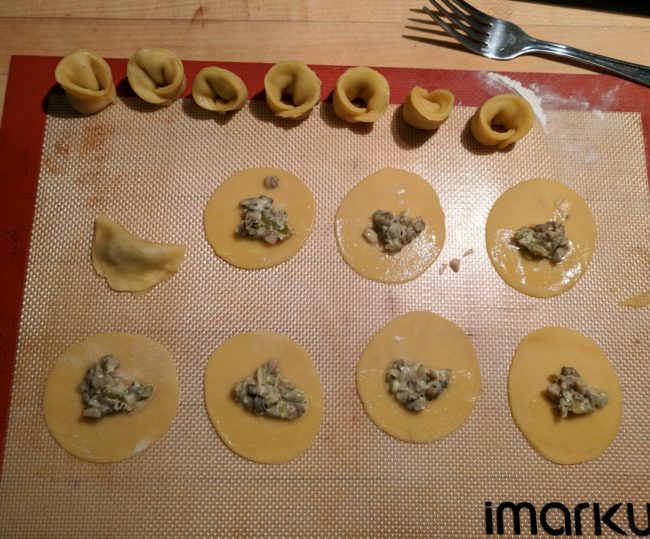 Roll the dough to less than quarter of an inch. It has to be thin enough for you to be able to see through it. Use the lid of a mason jar to cut out circles in the dough and set it on a dusted tray. Take one, place the filling and fold it in a semicircle. Seal it by dabbing a bit of water between the layers. With one finger, gently press the sides, removing any air trapped inside. To complete the tortellini, bring the two corners at the base of the semicircle and join it together with a touch of water. Make sure that the edges are sealed to ensure no water gets in. For this, you also have to make sure that you don't overfill the pasta. I used one teaspoon of filling per tortellini.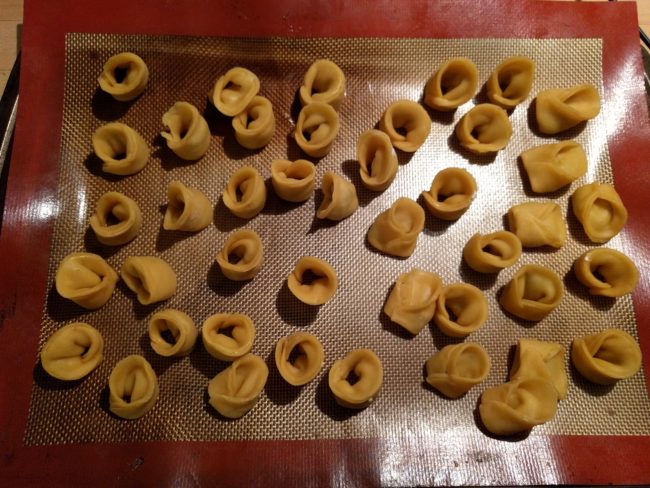 Cook the tortellini in a pot of boiling salt water for five minutes. Drain them and add it to the sauce. I made a basic white sauce with butter, flour, and milk and seasoned it with some salt, oregano, and chili flakes. I also had some shrimp in my freezer, so I roasted them with some basic spices and garnished the pasta with them.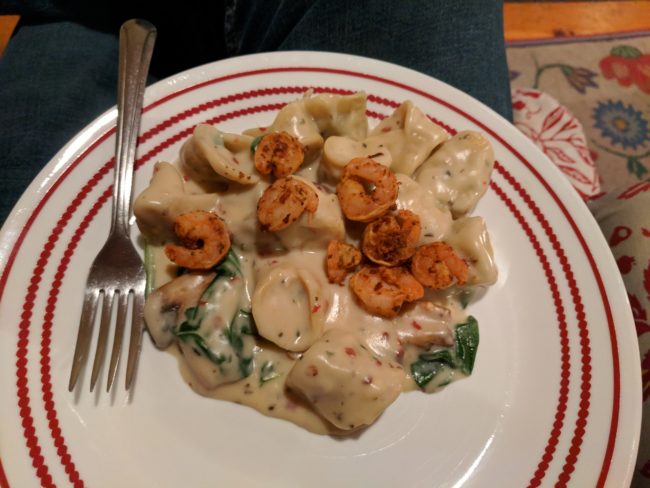 Try it out and you'll see yourself, tortellinis aren't that difficult at all. Find the recipe here.