Seasonal Fare with Flair: Cranberries
---
Our ever-popular demo diva brings us fabulous cranberry recipes for the holidays
The cranberry, along with the blueberry and Concord grape, is one of North America's three native fruits that are commercially grown. Its name is derived from the Pilgrim name—"craneberry"—so called because the plant's small, pink blossoms resemble the head and bill of a Sandhill crane.
Native Americans discovered the wild berry's versatility as a food, fabric dye, and healing agent, while American whalers and mariners carried cranberries onboard ship to prevent scurvy.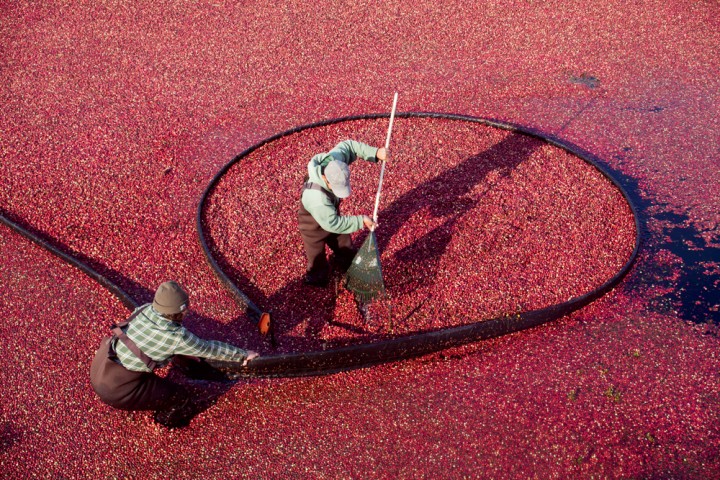 The cranberry industry comprises approximately 47,000 acres, of which 14,000 are in Massachusetts. Other major growing areas are New Jersey, Oregon, Washington, Wisconsin, and the Canadian provinces of British Columbia and Quebec. Most cranberries are processed into products such as juice, sauce, and sweetened dried cranberries, with the remainder sold fresh to consumers.
Fresh cranberries are available in stores mid-September through December and may be stored in the refrigerator for up to four weeks. Before using, sort and rinse cranberries in running water. You can also freeze them to enjoy all year long. To freeze fresh cranberries, double wrap them in plastic without washing. When using frozen cranberries in your recipes, no thawing is necessary. In fact, best results are obtained without thawing.
Naturally fat-free, cholesterol-free, low-sodium, and a good source of dietary fiber, cranberries contain flavonoids and polyphenolics, natural compounds that promote health.
When entertaining, try cranberry juice with a splash of sparkling water and a lime wedge for a pretty and refreshing alternative beverage.
Nantucket Cranberry Pie
2 cups cranberries, chopped or whole
1/2 cup chopped walnuts or pecans
1 1/2 cups sugar; divided
2 eggs
3/4 cup melted butter
1 cup flour
1 tsp. almond extract
1 tsp. vanilla extract
Preheat oven to 350°F.  Lightly grease a pie dish or cake pan.  Mix cranberries, nuts and half a cup of sugar.  Spread onto pie or cake dish.  Mix the rest of the sugar with two eggs, melted butter and flour.  Pour batter over the cranberries and walnuts.  Bake for 40 minutes, or until a cake tester inserted into the center comes out clean.  Remove the cake from oven and serve warm or at room temperature, with whipped cream or ice cream, if desired.
Makes one 9-10" pie or 9" square cake.
—Adapted from Nantucket Magazine, September 2015
Cranberry-Strawberry Compote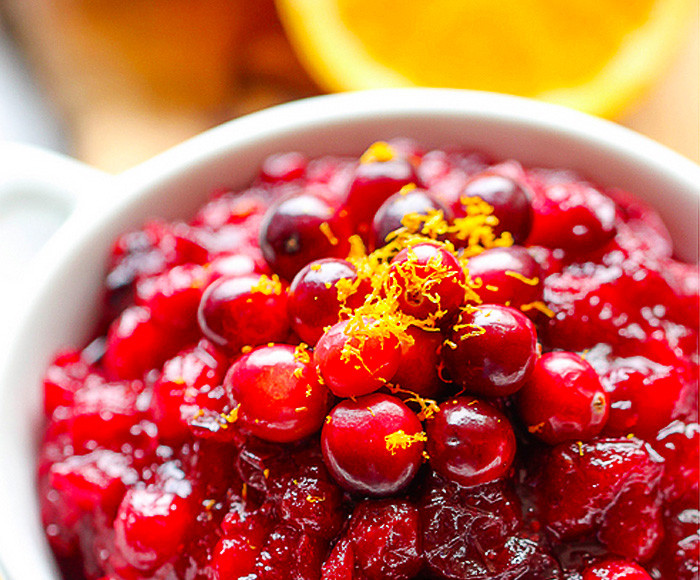 This recipe is a delightful change from the usual cranberry sauce.
2 pounds cranberries
1 cup sugar
1 pint strawberry preserves
Cover cranberries with water in a 2-quart saucepan and cook, covered, for about 5 minutes after they come to a boil. Add the sugar and the strawberry preserves, and cook for another 5 minutes. Chill.
Cranberry-Orange Compote
2 pounds cranberries
1 orange, peeled and cut into eighths
1 organic orange with skin, cut into eighths
Sugar
3 Tbs. Cognac or Grand Marnier (optional)
In a blender or food processor, grind the cranberries with the oranges. Add sugar to taste and either the Cognac or Grand Marnier, if desired. Blend thoroughly. Correct the flavoring, if needed, and refrigerate for several hours before serving.
Gift-Giving Out of the Box

If you want to make loved ones feel really cared for, nothing's better than a homemade treat, carefully prepared and packaged in pretty wrapping!  Prepare homemade cranberry sauce.  Spoon into a small glass jar and tie a decorative ribbon around the lid.  Print out the recipe for "Sautéed Brie with Cranberry Sauce" on a pretty card. Place your homemade cranberry sauce and recipe card in a gift basket or gift bag, along with a small wheel of Brie or Camembert and a loaf of your favorite sourdough bread. —Victoria Hicks  
For more of Victoria's cranberry recipes, check out our blog. Want to never miss a Co-op DailyUV post? Subscribe: http://eepurl.com/cfXVTc
#uvfoodie